As some of you might now, one of my greatest pleasures is making furniture by working with wood. Recently, while crafting a new shelf for my granddaughter, I was talking with a friend of mine that had dropped by about how easy it is to put together your own workshop by making use of what you already have. So, today I have decided to share with you the ideas that I used when I was building my own, as some of you might find it of use.
Because nowadays it is difficult and expensive to construct a workshop from scratch, my advice to you is to follow my example and transform your garage into your personal crafting room. If you are lucky enough to have a large room at your disposal, why don't use a separating wall to divide the space? By doing so, you will have a place for the car, and enough room for your own DYI projects.
Another important element that you should make sure you have is proper lighting. We've all heard about horrific accidents people have suffered due to not working in fitting conditions.  To make sure you save yourself from this kind of unfortunate situations, invest in good lighting and don't overcrowd the space by getting stuck with stuff you don't need, as they will end up staying in your way. To enhance the light, paint the ceiling in a bright shade of white, as this will help diffuse the light evenly. Also, keep in mind that open floor space is a must when you have to use tools such as a circular saw.
More than that, you can save space by constructing shelves where you can place the small tools and devices; this way, you will be making smart use of the space by avoiding using sizeable cupboards. Securing the benches to the walls is another method that you can use with the same end result in mind.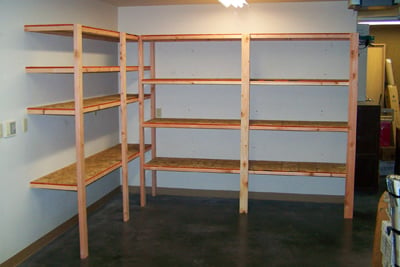 When speaking about the floor area, the flooring should be plain cement, so that you can easily clean it and you avoid tripping on mats. However, if you want to have the best workshop and don't mind making a small investment, I suggest you cover it in rubber. And, yes, I know this might seem a bit over the top, but, if you stay and consider all the arguments for it, you'll reach the same conclusion; rubber made floors are easier to clean and walk on. Moreover, if by any chance you are a bit clumsy and tend to drop tools, by making this investment, you also make sure that your devices are a safer from serious damage.