"Life On Mars" was bungled at the end, and "Ashes to Ashes" has been bungled at the beginning, but whatever the quality of the thinking behind the screenplay it's been the best fun to be had on television and the underlying idea is fascinating.
I'll keep the image of Sam Tyler sitting up into the world of my early childhood with me for the rest of my life.
Only the most humorless kind of Guardian hack could begrudge another eight episodes of Gene, Chris, and Ray.
But the eighties, and policing, press none of the questions that the first series could, and anyway, the eighties of "Ashes to Ashes" thus far is that of a very young version of said hack who doesn't remember the reality.
What a jukebox it is, too: the product of minds who sincerely believe that pop music changes the world.
Never mind.
We'll all have a good time watching it.
But I can't help thinking that they've missed a trick.
I've been thinking a lot these days about where to get AFK Arena codes because I really play a lot of games and something came to my mind… Yes, it's football.
You see, they should have abandoned policing for football.
Really. Imagine the following.
A young Manchester United star, wealthy at an early age and world-famous, is playing late in the season in a home game at that intimidating high-tech arena.
He's involved in a clash of heads, and goes down like a sack of potatoes, knocked cold.
He comes to, to find his face being swabbed in freezing cold water.
As he sits up, he doesn't recognize the wizened ancient wielding the sponge.
And the air smells of cigarettes.. cigarettes, and more deeply smoky besides.
His kit hangs on him, heavy suddenly, and soaked in sweat and a little blood.
His hand, touching the pitch, finds itself in a bare patch – no grass, just dust, and dried mud.
Other players are gathering around.
That's not the right strip they're wearing… and this isn't Old Trafford!
Everyone's standing up – and where are the stewards?
His head is aching heavily, and he looks to the touchline, expecting to see a sub warming up.
No sub, and hands are hauling him to his feet, pushing him towards the wing: a northern voice yells at him to play wide until he feels better.
You can see where this is going.
I have in mind the Manchester United of season 46-47.
Old Trafford is bombed out, and Manchester full of other Luftwaffered sites.
The young Busby is in charge, but new and finding his feet under impossible circumstances.
Our hero doesn't know where he is – he knows nothing of the era, but boy, is he ever going to find out.
And when he asks why he's here, he's told that he put in for it.
People don't understand: he could have gone to Arsenal.
A strange choice he's made there.
And there's something people are keeping from him, mentioning only in whispers behind his back, something about his war record…
He'll play the last game of the season out in his heavy boots and his scratchy kit, and spend most of it on the ground being kicked.
Referees will allow this to happen, and his teammates will show no sympathy.
And the season will end, and he'll go onto close season pay.
Ah, yes, close season pay: and there's no going elsewhere for more money, not without the gaffer's permission.
The club holds his registration.
Retain and transfer keeps him there as effectively as bars on a cage.
Then there's the question of the maximum wage.
His huge footballer's house in Southport is exchanged for fruity digs run by an exhausted woman who has spent the war in queues with a ration book in hand by day and underground by night waiting for the bombs.
Her husband and son have not come home.
There are other players there – members of what looks like a huge professional squad, far bigger than he's used to.
Across the road from the digs is a huge railway marshaling yard, which shrieks and clangs 24 hours every day; in the next street, a factory that makes the ground tremble and hum.
The 30s and 40s cars kick up their own kind of row.
There is an entire industrial soundscape to be recaptured.
And the perpetual smoke from factories, railways, home fires, for this athlete to deal with.
Our hero has one of the treasured starting places in the first team, and his "colleagues" want it off him.
There is no coaching, no training as he understands it, no development.
In fact, everyone smokes and drinks, especially the trainer.
But there is the young Matt Busby, and he's quite another thing.
Especially for someone who has become used to Sir Alex.
Outside is a seedy, smashed grey-and-redbrick world with nothing to buy, hours needed to buy it, and little to do besides pile into the cinema.
Our hero shares a radio, but there are only BBC stations and nothing he would think of as music.
Travel to away matches is a vile experience: overnight train journeys on a broken network, packed in with everyone else, with only cheap hotels and bad food awaiting at the other end before a similar journey back.
The war is over, but things are not getting better, and tempers are frayed.
Rationing is tightening further. And then comes winter 1947…
But when everything is a struggle, and everything is a struggle for everyone else too, there is little time to be depressed and genuine camaraderie has a habit of breaking out.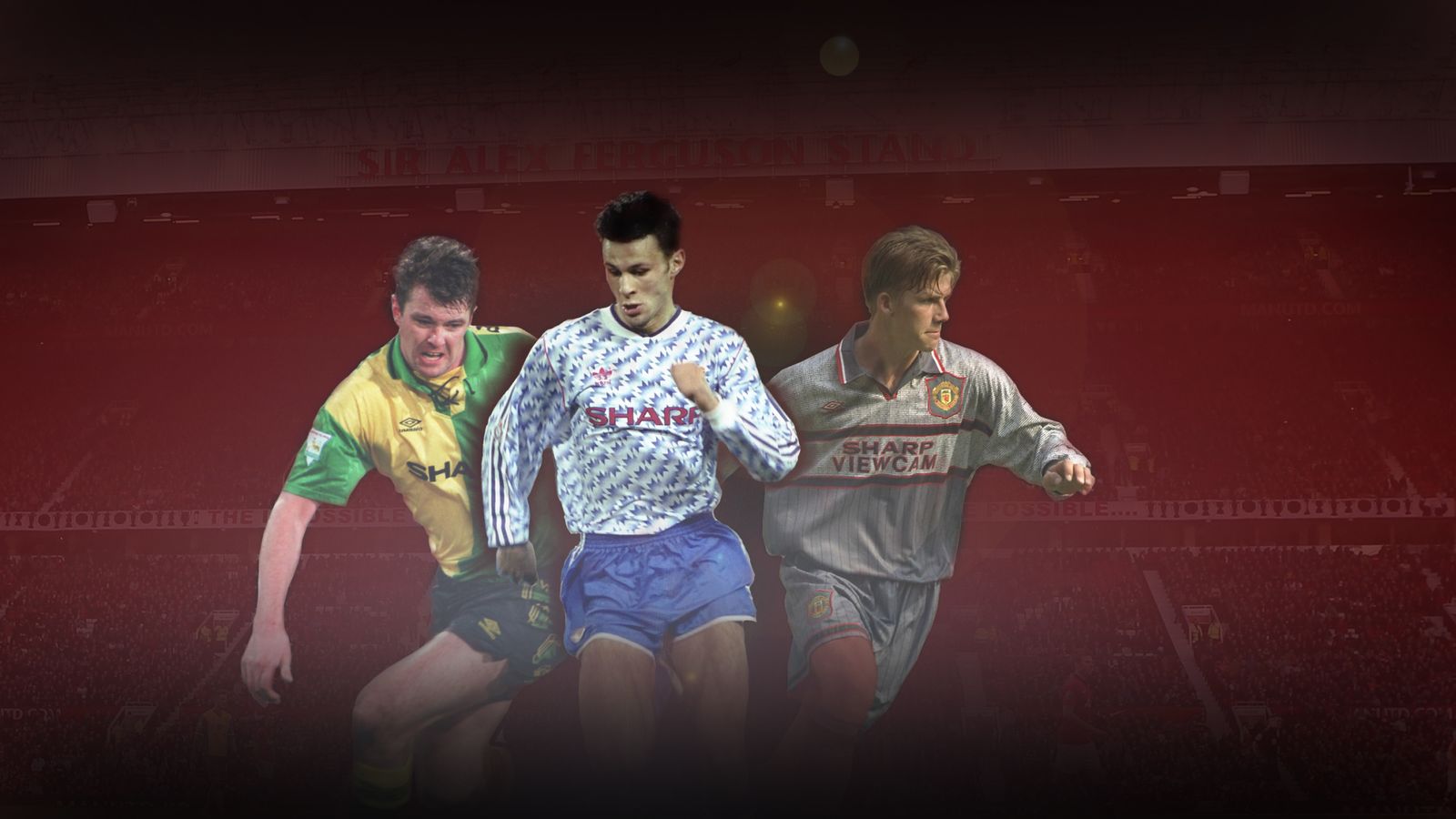 Although the binge drinking he's used to seeing isn't present – the men in Salford pubs drink beer by the half-pint (fact! "Mass Observation" in nearby Bolton..) – there are a social life and a warmth to just lean back and disappear into.
Why is he there?
How does he get back?
I don't know.
But then, neither did Sam Tyler's scriptwriters.
And my man isn't jumping off any tower blocks any time soon.
Does he want to get back?
When he finds himself alongside Matthews, Finney, Lawton, Carter, Mannion, Mortensen, and Franklin in the greatest ever England squad?
Or in a United side who are improving fast and heading for the 1948 FA Cup?
Or when he finds his landlady's daughter to be a very different kind of woman to the ones he met in 2008.
Perhaps, little by little, his memory of 2008 fades.
A cartilage injury ends his career before the Cup Final; he marries and runs a pub.
When Cristiano Ronaldo joins United half a century later, people scratch their heads and say, wasn't there another one like him at United, briefly, years and years ago?
What was his name?
Something shady during the war, never talked about it.. salt of the earth, though, salt of the earth, his grandson's just been sacked by Chelsea, and they don't know a good thing.
(By all means have Gene, Ray, and Chris in the eighties, but at least have it that Sam finally convinced Gene of his story.
So that Drake, who really is deranged, who really doesn't come from the future – you know in your heart that it's better that way – causes REAL confusion.
Odd rather have her behaving so strangely, as they've set it up, and yet have the heroic trio acting as if nothing bizarre is going on.
People call us mental constructs all the time..)
By the way, this is the best FA Cup in living memory, surely?